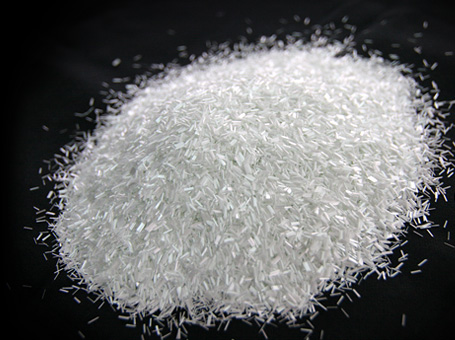 Chopping
All kinds of glass fibers can be cut into a length of 1 mm (up to about 50 mm). And acid-proof glasses can also be pulverized.

Slitting
The minimum slitting width is 60 mm.
Full-length products, such as yarn cloth, glass paper, chopped strand mat, and continuous filament mats, can be cut into a specified width. Re-processing and special packing are also possible.

Shape cutting of specified base material
Specified base materials can be cut into shapes of various sizes (such as circular, rectangular, and donut shapes).

Roving rewinding
Various types of rewinding processes can be conducted according to the intended use.
Rewinding around paper core for outward extraction, rewinding with increased twist, and rewinding with decreased twist are available for general roving. We can also handle multiple wound yarns. For the rewinding of yarns other than roving, such as composite yarn, please feel free to contact us.

Woven fabric processing and sewing
A wide variety of original clothes can be made according to the intended use and required characteristics. Please feel free to contact us for details.

Glass fibers
Chopped strand/Chopped strand mat
Milled fiber/Roving/Roving cloth/Paper
Yarn/Yarn cloth/and general glass fibers
Others
Molded FRP products/Glass powder
Calcium silicate powder containing glass fiber
Urethane powder/Resin concrete powder containing glass fiber